"FREE FIBERS" VERSUS "CROSSED FIBERS"
– TEST SERCOVAM : free fibers versus crossed fibers :  click here
– TEST SERCOVAM : resistance after stress :  click here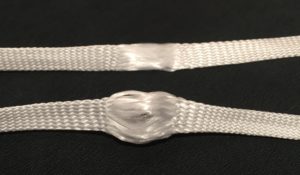 ---
STIF – Vetlig Global is proud to present " ALFA*- Z LIG ".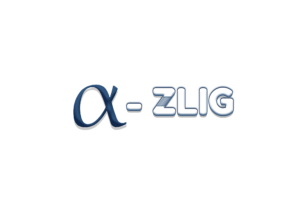 What is α- Z lig?
All the detailed answers are available on our website through our various brochures.
However, we are going to summarise to help you understand why STIF's synthetic free fibers ligament – Vetlig Global is now called  a- Z lig
STIF – Vetlig Global was born in 2010 thanks to Dr J.P. LABOUREAU, who is the inventor of the artificial free fibers ligament widely used in humans since 1992 (L.A.R.S.) and distributed worldwide.
STIF-Vetlig Global is the first brand in the world to have studied and proposed a synthetic ligament and its installation technique adapted to veterinary use.
The α / ALFA* Z-lig is therefore derived from human surgery. It is even an improvement of what has been done in humans to meet the specificities of our pets, in particular smaller bones but very different according to the breeds and a much greater speed. The ligament must be thinner, but also more resistant to meet the constraints of kinetic energy.
30 years of experience, accompanied by passion and the will to innovate have made this progress possible.
We therefore believe that a/ ALFA* (Artificial Ligament For Animals) but also synonymous with "leader" takes on its full meaning when referring to the innovation brought by STIF – Vetlig Global: the first free fibers synthetic ligament for animals.
The placement of the ligament and the way it is fixed are essential for the success of the operation and a lasting result over time.
As shown on the X-ray below, after several years of studies and tests, the assembly that was developed by Dr Laboureau gives a Z-image, with 4 fixation points :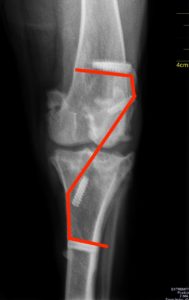 STIF – Vetlig Global is exclusively dedicated to veterinary ligament and tendon orthopaedic surgery. It is guided by the experience of the inventor of the concept in humans and dogs, and stimulated by the involvement of its loyal collaborators and partners, who make it an innovative, solid and transparent company, concerned with bringing the best and constantly progressing in its field.
α / ALFA (Artificial Ligaments For Animals), Z-lig is the summary of a long history.
---
Prospective study from 2012 to 2019 using the STIF – VETLIG GLOBAL ligament – updated in January 2020 :