Prospective study from 2012 to 2019 using the STIF – VETLIG GLOBAL ligament – updated in January 2020 :
---
RESUME – AFVAC CONGRESS – NOVEMBER 2019 – LYON:
The AFVAC congress took place from 28 to 30 November at the Lyon Convention Center. This congress was very informative.
First, we remind you that STIF – Vetlig Global strives to propose to the veterinarians high quality products directly from the collaboration between veterinary surgeons (who are really involved in improving animal welfare and the comfort of their masters) and knowledge from Dr. JP Laboureau. He has an experience as a specialist of knee orthopedic surgery for more than 40 years in humans, and he is the inventor of the free fibers, which is today mainly used in human surgery around the world.
A lecture on the intra-articular reconstruction of the cranial cruciate ligament in dogs was given by Dr. JP Laboureau, who talked about the history of this product that he invented in humans, and how he adapted this technology to veterinary surgery.
This presentation was then taken up by the veterinary doctor P. LE DOZE, who presented a prospective series of more than 80 dogs operated with the ligament STIF – Vetlig Global, with the technique developed by STIF. He presented his results with a follow-up of more than 7 years on the first cases.
The veterinary doctor N. CHAILLEUX also presented her results on the ten cases operated in 2018, with a decline of 1 year for his part.
You will soon be able to watch the videos of these presentations on our youtube channel by clicking here.
---
TRAININGS DEDICATED TO THE STIF – VETLIG GLOBAL LIGAMENT AT THE TRAINING CENTER OF OUR PARTNER EICKEMEYER:
You can now take part to trainings about the STIF-VETLIG GLOBAL ligament and the VIART technique (CCL reconstruction).
The day is organized as following: theoretical course in the morning (how came the STIF – Vetlig Global ligament and how to use it) and practices in the afternoon on cadavers. These courses take place in the training center of our partner Eickemeyer in Germany.
Several "Vetlabs" will be held in 2019. Do not hesitate to contact us for more information. You can also visit our partner's website by clicking here.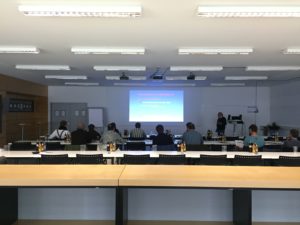 ---
"FREE FIBERS" VERSUS "CROSSED FIBERS"
– TEST SERCOVAM : free fibers versus crossed fibers :  click here
– TEST SERCOVAM : resistance after stress :  click here